52 Weeks of Holding Space



AN ONLINE SELF-STUDY PROGRAM
What might change for you if you committed to a weekly practice in intentionally holding space for yourself?
What might be healed and how might you grow if you spent at least 30 minutes each week, for a full year, focused on your own needs, emotions, biases, strengths, social conditioning, etc.? How might you be transformed at the end of that year?
In this self-study program, we want to offer you that opportunity and encouragement. With gentle guidance you'll deepen your relationship with yourself, learn self-compassion, practice being more clear about what you need and what makes you feel safe, and explore the areas in which you're ready to grow. You'll also understand trauma better, learn to erect healthier boundaries, and develop practices that help you soothe yourself when your nervous system is flooded.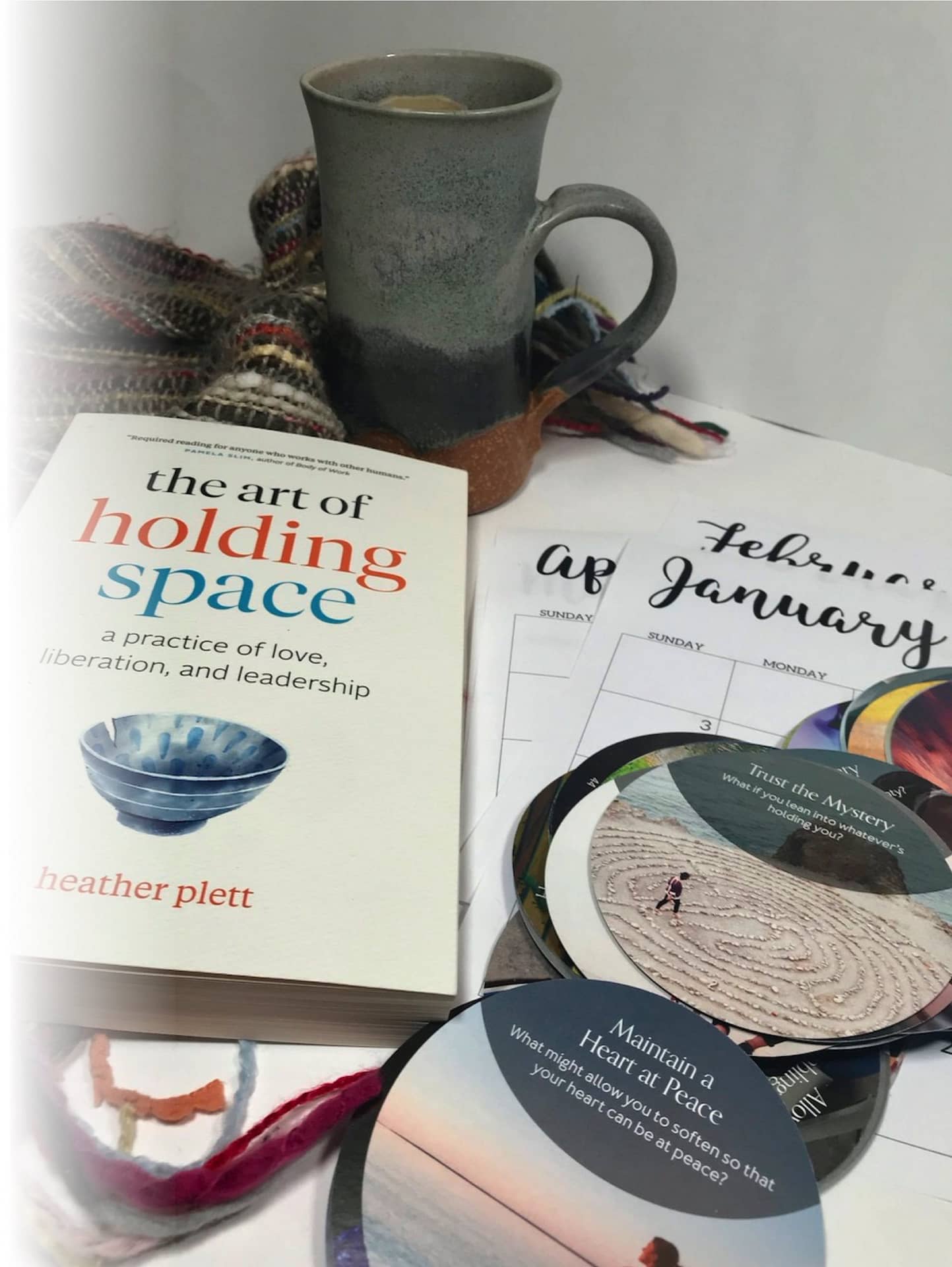 While the focus in this program is on YOU, the added bonus will be that you'll deepen your relationships with others in your life, strengthen your social contracts, and develop greater capacity for holding space.
Each week for a year (which you can start at any time in the year), you'll receive an email that introduces one of the core concepts of holding space, developed by Heather Plett in the book The Art of Holding Space: A Practice of Love, Liberation, and Leadership. The email will include a short reflection on the concept, journal prompts to help you reflect on the concept, creative prompts that invite you to engage with the concept in a more embodied and playful way (most can be done in an art journal), and action prompts that invite you to practice the concept in real life. (Note: While the reflections are related to the book, each one is new content written by Heather and does not appear in the book. You'll be among the first to get brand new content written after the book was published.)
This program is based on the Holding Space Card Deck, which emerged out of the book, The Art of Holding Space: A Practice of Love, Liberation, and Leadership. Each weekly reflection is connected to one of the 52 cards in the card deck. The best way to work through the program is to have both the book and card deck on hand (and you can purchase it as a package deal), but there's enough valuable content in the program that you could get something out of it even without the book or card deck. (A photo of the appropriate card will appear with each lesson, so you'll see the cards digitally even if you don't have the physical deck available.) We do, however, encourage you to read the book because we believe you'll want to go deeper into the concepts. 
For the price of a cup of coffee each week, you'll be investing in your growth, healing, and self-discovery.
The image to the right is a sample of what you'll get each week.
Note: If you've been contemplating signing up for the Holding Space Foundation Program, this would be a valuable precursor to that program (new cohorts begin every October). It also works great as a stand-alone program for your own personal development.
Options:
Emails only: $208 CAD
Emails plus cards and book: $274 CAD + shipping (shipping will be added based on your address) 
(If you want other options, like only ordering the card deck, then register for "emails only" and go over to our shop page to add other items to your shopping cart.)
(There might be a slight delay between receiving the confirmation and receiving your first email.)

"It's time for this powerful tool to get into the hands of more people so they can experience what this gifted teacher has to share." – Barbara Winter