Holding Space


FREE RESOURCES
The Centre for Holding Space strives to support everyone who wants to grow their capacity to hold space. We've developed a few Holding Space free resources (in addition to what's available on our blog) to support you in deepening your practice and strengthening your relationships.
Perhaps, one day, we'll see you in one of our online courses or at an in-person event, but even if that's not possible, we hope that these resources will support you.

PRACTICING LIGHTNESS, FREEDOM & JOY
The more I practice liberation and tenderness, the more I believe that we make our best contributions, even to the great tragedies of the world, when we intentionally cultivate lightness, freedom, and joy. When we unapologetically orient our lives toward joy, we can be more creative, more generous, and more resilient.
Join me, Heather Plett, together with my friend Mary Scholl, as we talk about how to cultivate lightness, freedom, and joy in our lives.
Subscribe to our newsletter and receive the link to this FREE webinar.

CHOOSING THE PATH OF LIBERATION & TENDERNESS
Heather Plett is on a mission to bring more tenderness into the world. She believes that tenderness can change the world. She also believes that tenderness needs to go hand-in-hand with liberation and that they need to be available for us ALL.
She's spent the last couple of years (since publishing her book, The Art of Holding Space), contemplating Liberation and Tenderness and now she wants to tell you about some of the things she's learned.
Subscribe to our newsletter and receive the link to this FREE webinar.


LOVE LETTERS FOR THOSE WHO HOLD SPACE
To support those who hold space in many different ways, we've created a series of mini-workshops that we hope will inspire and encourage you. Each video has been especially developed for these challenging times we're in, when we've all been disrupted by a global pandemic and we're all dealing with stress and complexity. Each includes a unique teaching developed by the Centre for Holding Space. Watch one or watch them all.
Subscribe to our newsletter and receive the link to this FREE video.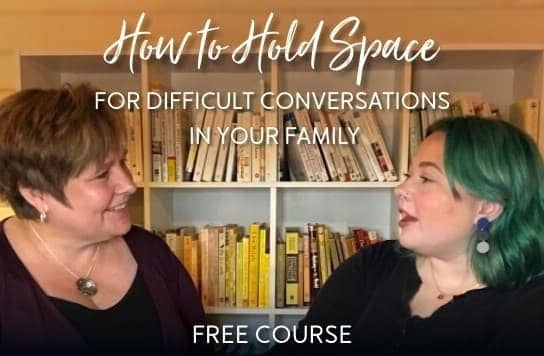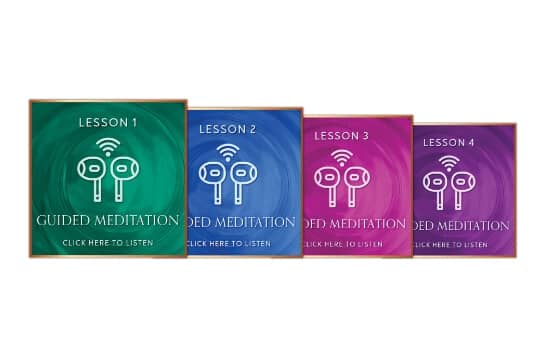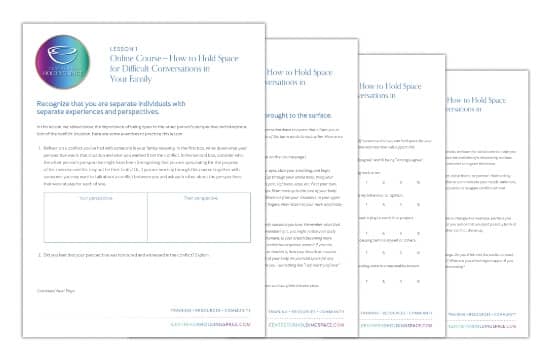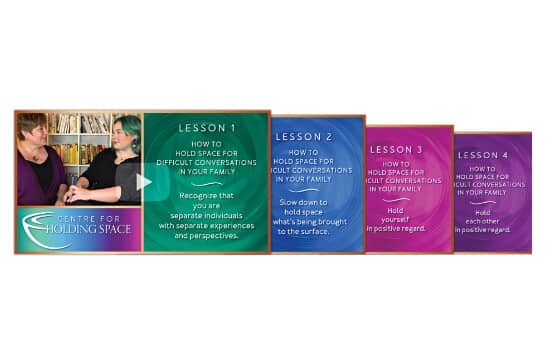 HOW TO HOLD SPACE FOR DIFFICULT CONVERSATIONS IN YOUR FAMILY
In this course, Heather Plett (co-founder of the Centre for Holding Space) and her daughter Julie Laurendeau (who's completing an honours degree in psychology) offer four lessons from their own lives and years of study on how to stay present in the midst of conflict, how to listen to each other when big emotions are showing up, how to soothe yourself when your nervous system is flooded, and how to communicate about harm that's been caused.
Digging into their own vulnerable moments, their mistakes, and their moments of deep connection, this mother-daughter duo have produced four videos full of stories and tips that will help to transform your family relationships.
When you learn How to Hold Space for Difficult Conversations in Your Family, your family connections will deepen, your trust will grow, and your capacity to withstand hardships without shattering your relationships will increase.
Subscribe to our newsletter and receive the link to this FREE course.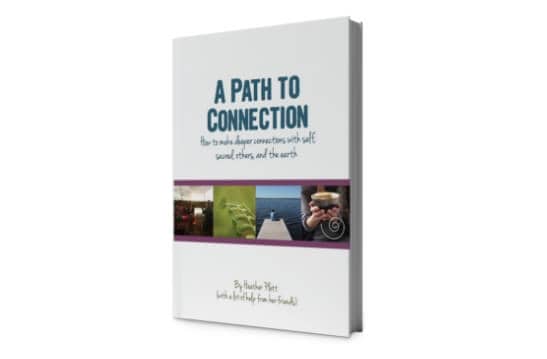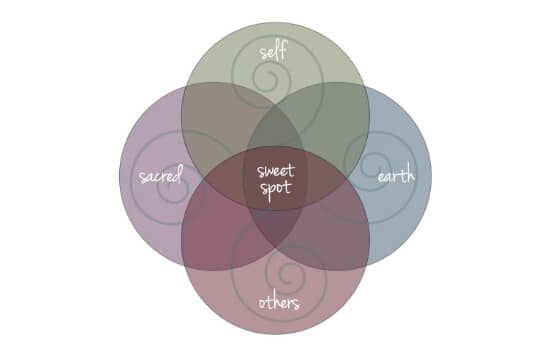 A PATH TO CONNECTION
In this free 67 page e-book, Heather Plett invites people to consider what it means to seek greater connection.
The journey to connection has four paths – self, sacred, others, and the earth. We can't make connections with any of these four without impacting the others. When we seek connection with the sacred, we must also honour the earth. When we seek connection with others, our connection with ourselves also grows. At the intersection of all four of these paths is a sweet spot, and that's the place of deepest connection that we all long for. This e-book explores all four of these paths and will help you find your way to your sweet spot.
When she created this e-book, back in 2014, Heather put out a call for submissions to other wise souls (teachers, poets, au- thors, artists, storytellers, etc.) who have some understanding of the quest for connection and thirty-three people responded.
The e-book is full of their stories, tips, poems, and art work on the topic of connection. It also includes four articles by Heather as well as a list of 100 ways to connect.
Subscribe to our newsletter and receive the link to this FREE e-book.


Connecting with others who share similar (or sometimes radically different) journeys has helped me to remove my colonial glasses and really start leaning into the mystery. I am more likely to ask questions rather than jumping to conclusions ("what if" or "what else" is often the tune in my head). The connections I made through Holding Space have changed the way I interact with others and myself for the better.

-How to Hold Space Foundation Program Participant