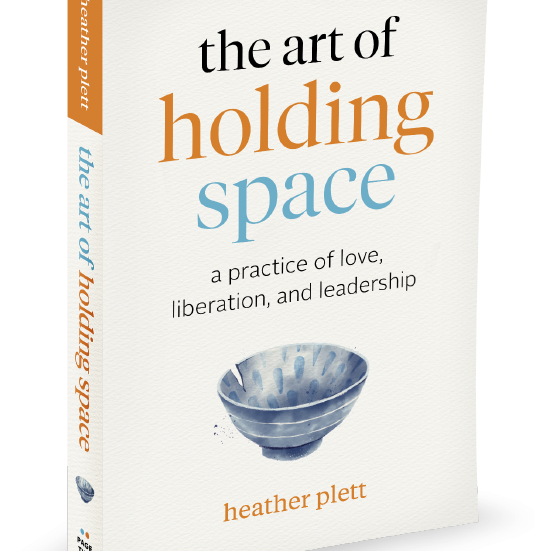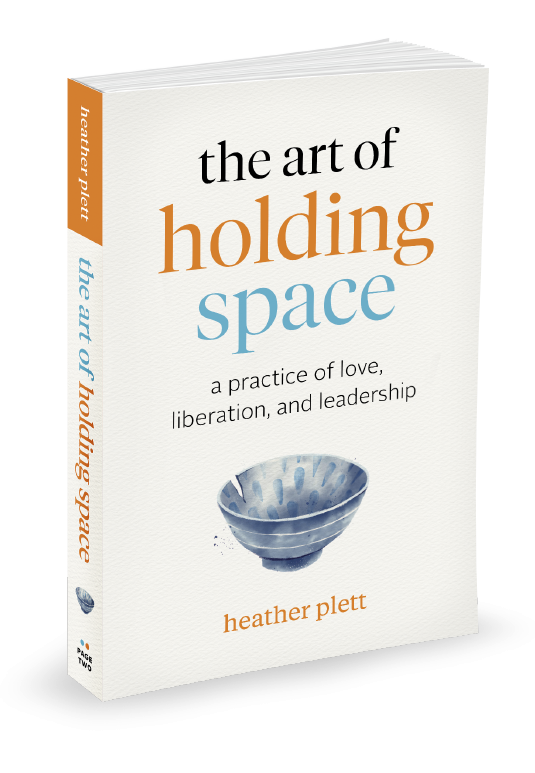 The Art of Holding Space
A Practice of Love, Liberation, and Leadership
By Heather Plett
We encourage supporting small and black-owned businesses in your community by checking with your local bookstore first when purchasing. If the book is not available in your local bookstore, give them a nudge and request that they stock it. If you're in the U.S, check out this great list of Black-owned bookstores.
Order Your Personalized Autographed Book
$26 CAD + Shipping
Holding space is the practice of compassionately
witnessing, accepting, and supporting someone without judgement,
while retaining your boundaries and sense of self.
The ability to "hold space" for yourself and for others has never been more urgent. Faced with global issues of climate change, political unrest, violence, and economic crises, more citizens of the world are experiencing disconnection, grief, and a deep sense of loneliness than at any other time.
But, with the right tools, you and your circle can become part of the solution. In this profound book, facilitator and speaker Heather Plett empowers you with constructive, actionable practices for transforming conflict, building boundaries, and increasing sovereignty in your own life – and the lives of those closest to you.
You'll learn:
How to create a non-judgmental space for yourself and others
How to build trust and autonomy
How to create and refine your circle of trust
How to move through trauma
How to reawaken your authentic identity
How to work through conflict
How to create "brave spaces" that allow for free expression
When we hold space for other people, we open our hearts, offer unconditional support, and let go of judgement and control. We show we are willing to walk alongside another person in whatever journey they're on without making them feel inadequate, needing to change them, or trying to impact the outcome.
By holding space, you create a container for liberation to occur in your life and in society. The Art of Holding Space is an instrument for hope, transition, and positive change in our time of near-constant transition, as we yearn to emerge into a new story.
Advance praise for The Art of Holding Space
"Heather Plett brings so much grace, care, and accountability to this book and her teachings. She leaves us with hard-earned lessons and skills intended to support people and help lead us toward repair."
—Desiree Adaway, trainer, facilitator, and principal of The Adaway Group
"The Art of Holding Space provides the missing link for those of us who do any kind of transforma- tional work. Heather Plett has done a great service by writing this book, which should be required reading for anyone who does work with other human beings."
—Pamela Slim, author of Body of Work
"Reading this book will teach you to engage in the possibilities for transformational listening and speaking as they appear in daily life. Read it. Trust yourself. Show up. Repeat."
—Christina Baldwin, author of Life's Companion and Storycatcher
"This beautifully written book will give you a reason to discover your authenticity, and hold space for yourself and those around you. As our world continues to change, The Art of Holding Space is a roadmap to negotiate the future."
—Tu Bears, author, poet, and artist
"What I love about Heather Plett is that she brings so much compassion to her own mistakes and traumas, which she shares with deep honesty and courage. This book is a great gift to the world in this time of turmoil and crisis, and is exactly what we need."
—Dr. Robin Youngson, author of Time to Care: How to love your patients and your job
"I recommend this book to anyone who is seeking to foster connections and conversations in a world that often feels fractured. It will help restore your faith in what is possible."
—David Drake, PhD, author of Narrative Coaching:
The Definitive Guide to Bringing New Stories to Life
"There is deep and timely wisdom in these pages. With uncommon tenderness and care, Heather Plett has managed to write a book that seems to be the very thing it is pointing us toward."
—Steve Bell, singer-songwriter and author
"Building on the foundation of her own grounded authenticity, Heather Plett has offered us a floodlight to illuminate our path through the dark spaces of human exchange. Plett walks us through academic as well as historical and cultural roots within the practice. She invites us to review specific challenges and barriers to holding space. There is a refreshing openness, an invitation, in Heather's perspective. Plett elucidates how a combination of intuition, discernment, humility, courage, mystery, trust and community enable individuals to successfully hold space in an effective, compassionate way. This book will serve as a resource for quotations, encouragement and information. We cannot help but be left with the impression that as we were reading The Art of Holding Space, we were being artfully held."
—Francesca Mason Boring, facilitator and author of Connecting to Our Ancestral Past
"The Art of Holding Space will transform your relationships with friends, family, colleagues, strangers—and yourself. Here you will find insightful and practical guidance, elegantly illustrated through Heather Plett's personal experiences, research, and professional path, to bring more kindness, curiosity, and meaning to all your interactions. I can't think of an 'art' we need more right now."
—Christa Couture, author of How to Lose Everything
"This wise and compassionate book has the potential to forever change the way we show up for each other as individuals and in community. Read it, absorb it, practice it. Repeat."
—Alana Sheeren, documentary filmmaker, Listen Closely
Meet The Author
Heather is an international speaker, facilitator, and writer who specializes in the art of holding space. Participants of her Holding Space Practitioner Program have come from six continents to join her online and at in-person workshops around the world. Her writing on the subject of holding space has appeared in publications such as Harvard Business Review and Grist magazine and has been quoted in multiple books as well as curriculum for nurses, hospice care workers, yoga teachers, facilitators, and military chaplains. She lives in Winnipeg, Manitoba, Canada with her three daughters.