Holding Space
WEBINAR SERIES
We are excited to be offering a series of webinars related to the work our team does at the Centre for Holding Space.
Some of these webinars are tailored for specific audiences and some are related to specific topics under the larger umbrella of what it means to hold space in our relationships and our work. We hope you join us!
Webinar #1 – Recording Available for Purchase – Introduction to Holding Space for Yoga Professionals
Webinar #2 – July 22, 2023 – Your Unique Holding Space Practice 

WEBINAR #1 – RECORDING
Introduction to Holding Space for Yoga Professionals
Join Master Practitioner Candidate Lucy Karnani to learn about holding space for yoga professionals. 
As a yoga professional, you have a desire to support people. That involves holding space for them, but what does that mean? What is involved and how can you do it more effectively?
This 90 minute workshop for yoga teachers and therapists will introduce you to the components of holding space and how they are relevant when teaching group classes or working one-on-one with students and clients.
Click to learn more
The workshop starts with an overview of what holding space is, including its definition and purpose. We also explore what you can do personally to be prepared to hold space for a wider range of people and situations, and what might get in the way. It is a mixture of theory, discussion and practices of holding space, with opportunities through various experiential practices in small groups.
Overall, this introductory workshop will help you create and hold space for your students and clients in a way that will encourage an environment of connection, authenticity and learning – for you and them. By holding space more consciously and effectively you will more easily be able to establish a sense of safety and trust, which are possibly the most important qualities of a strong yoga teacher-student relationship.
* * * *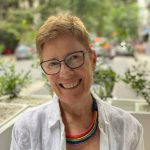 This webinar is taught by Lucy Karnani. Lucy is a Master Practitioner and on the teaching team of The Centre for Holding Space. She has hosted Listening Circles and run retreats for many years. She has also been leading training programs and coaching individuals in Conscious Communication for nearly 30 years (she's even written a book about it! CONNECTING – Conscious Communication for Yoga Teachers and Therapists). 
Transitioning out of the corporate world in the early 2000s, Lucy developed a regular and committed personal yoga practice from which she gained many health and wellbeing benefits. As well as hosting Circles and sharing her expertise and experience in various training programs, she particularly loves her work as a mentor, coach, and communication consultant where she feels very grateful for the opportunity to support all space holders (and yes, we are all space holders) on their personal and professional journeys.
Purchase the Recording:
Cost: Pay what you can – suggested price $50 CAD, but you can purchase the recording for as little as $10 CA

WEBINAR #2 – JULY 22, 2023
Your Unique Holding Space Practice
Join Master Practitioner Emily Gillies for a conversation about the unique and specific ways you hold space.
Those of us who are drawn to this work tend to have a strong calling to be a support to others, and likely we have our own personal expressions, practices, and focus areas of how we hold space. 
This two-hour workshop invites you to learn from others and celebrate their holding space journeys, plus offers a reflective space to more fully-form and articulate your own Holding Space gifts. 
Click to learn more
Having worked with the Centre for Holding Space's teaching team for over five years, Emily appreciates the evolution of how we talk about and engage with the Holding Space concepts.  Whether it is in personal or professional realms, every person brings their own special nuances, voices, experiences and priorities to the practice of Holding Space. Alongside Heather, Emily values and celebrates the many ways this work grows and supports people.
Emily has co-facilitated three cohorts of the Centre for Holding Space's Certification Program (2020-23), and loves to be part of defining and wrestling with the variety of expressions that each person uniquely has.  Emily believes each individual's inner "holding space spark" is beautiful and contributes to a brighter collective picture for our families, workspaces, and communities.
This conversation will also touch on the balance of meeting our own needs, as we know Holding Space is two sides of the same coin: what we offer to others while simultaneously holding space for ourselves.
Whether you have previously sat in circle with the CFHS programs or if this is your first time joining us, you are warmly welcome. Let's be curious together, as we embrace and uplift the many good ways this work calls out to us, and as we gain inspiration and clarity to continue.
* * * *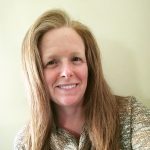 Emily is a Master Practitioner with the Centre for Holding Space, where she facilitates the Certification Program, offers One-on-One Coaching, and hosts in-person workshops in her local area. Stepping away from her earlier career in Law Enforcement, Emily answered her soul's call of creating compassionate, brave spaces for personal reflection. This was sparked by completing The Circle Way training in 2016, enriched by owning and operating a Mindfulness Retreat Centre in 2018-19, and solidified by being part of the Centre for Holding Space's teaching team for the past five years.  Emily has worked with families and individuals who are seeking stability and support in times of crisis, and is a community and church leader with the United Church of Canada. Emily joyfully weaves her love of Holding Space into other realms of life including: as a single mother of two teenage sons, as a musician and a textile artist, and to her various spiritual practices which include reiki, yoga and riding her motorcycle around the Canadian prairies as much as possible in the summer months.
Webinar details:
Date & Time: July 23, 2023, 12-2 a.m. GMT (that's July 22 at 7-9 p.m. CDT)
Cost: Pay what you can – suggested price $75 CAD, but you can register for as little as $10 CAD
Note: The webinar will be recorded, in case the time doesn't work for you.